Sodium Fluoride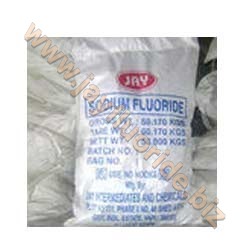 Sodium Fluoride
Price And Quantity
Kilograms/Kilograms

65 INR
Product Description
Sodium Fluoride
We formulate and export our vast range of high quality Sodium Fluoride which is available in various compositions. These are used in manufacture of Foundry Fluxes,Electroplating,etc.Pure Sodium Fluoride is used in Toothpaste formulations,in Drinking Water Fluoridation. Further, our range is available at competitive rates for clients all over.

Uses:

As insecticide particularly for roaches and ants
In pesticide formulations
Constituent in vitreous enamel and glass mixes
As steel degassing agent
In electroplating
In foundry fluxes
In heat-treating salt compositions
In fluoridation of drinking water
For disinfecting fermentation apparatus in breweries and distilleries
Preserving wood
Manufacture of coated paper
Frosting glass
Other names Florocid Identifiers:
CAS number 7681-49-4
EC number 231-667-8
UN number 1690
RTECS number WB0350000
Properties:
| | |
| --- | --- |
| Molecular formula | NaF |
| Molar mass | 41.99 g/mol |
| Appearance | White solid |
| Density | 2.558 g/cm3 |
| Melting point | 993 C |
| Boiling point | 1700 C |
| Solubility in water | 4.13 g/100 g (25 C) |
Hazards
:
MSDS Sodium fluoride MSDS
EU classification Toxic (T), Irritant (Xi)
EU Index 009-004-00-7
R-phrases R25, R32, R36/38
S-phrases (S1/2), S22, S36, S45
Flash point Non-flammable
LD50 52200 mg/kg (oral in rats, mice, rabbits).
Sodium Fluoride
CAS No. 7681-49-4
HS Code: 2826 20 00
UN No: 2439
Formula: NaF
Synonyms: Sodium Fluoride
Physical and Chemical Properties
Mo. Wt: 42.01
Physical State: White crystalline powder
Specific Gravity: 2.68
Technical Specifications
Appearance: White powder
Assay: 98.50% min
Free SiO2: 0.50% max
Na2SiF6: 0.020% max
Sulfate SO4: 100 ppm max
Chloride CI: 50ppm max
Moisture: 0.50% max
Iron Fe: 0.004% max
Lead Pb: 0.003% max
Heavy Metals: 0.001% max
Packing: 25 kgs Export approved HDPE Bags/1 MT Jumbo Bags/ 25 kgs Paper Bags.